Get to know Princess Megan!
Pharmacy Operations Manager at National Pharmacies Victor Harbor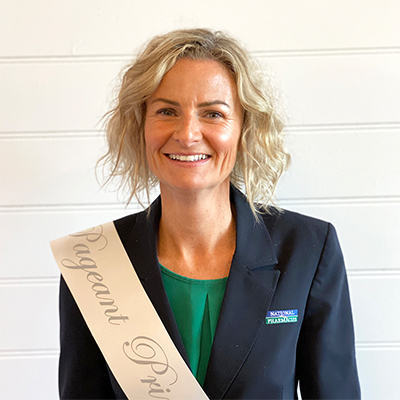 1.  What's your favourite thing about your job? 
I love the people I work with and the fact that you just never know what is going to happen on a day to day basis... pharmacy is so interesting!
2. What is your favourite National Pharmacies store and what do you love about it?
My store in Victor Harbor has such a happy vibe. We have such great members and customers and such strong team culture; we call each other work family. It is just a great place to work.
3. What's the best kept secret at National Pharmacies?
The National Pharmacies Christmas Pageant merchandise this year is exciting and adorable!!
4. What is your favourite thing about the National Pharmacies Christmas Pageant and what are you most excited about? 
Lots to be excited about this year! Adelaide Oval! A designer dress! An electric atmosphere! Something to look forward to after a very strange year... I just can't wait!!
My Favourite part is being able represent National Pharmacies and sharing the experience with my family, my work family and friends. Creating memories that my young family will remember for a very long time. 

5. Do you have a favourite float in the National Pharmacies Christmas Pageant? 
I have two favourites... as a Christmas tragic.... I'm sure is almost everyone's favourite Father Christmas and then my childhood favourite is without a doubt Bruto... How can you not just love the purple fluffy guy?

6. Why did you apply to be part of the royal family and what is the best part about joining the National Pharmacies Christmas Pageant royal family? 
I applied to be part of the royal family this year because last year I had the honour of escorting Father Christmas on his float as a Ice Nymph.... Not much is going to top that.. except maybe a part in the Christmas Pageant Royal family.
For me, there are many "best parts" this year... one is working with designer Cristina Tridente and wearing a Princess dress designed and made by her. Another is the being part of a great fun bunch of Royals and having the opportunity to represent National Pharmacies in a unique pageant at Adelaide Oval.
7. What's your favourite Christmas tradition?
On Christmas day at night time after the day is done and dusted, my favourite tradition of watching National Lampoons Christmas vacation with just the four of us Smiths, we eat left overs in our pjs and just laugh.
8. Would you rather go for a ride on Father Christmas' sleigh or get a tour of his workshop? 
The sleigh.... to fly through the open sky .... amazing!
9. Would you rather spend a day watching Christmas movies or listening to Christmas music? (If movies, that is your favourite Christmas movie? If music, what is your favourite Christmas song?) 
As much as I'm a Christmas crazy I actually dislike Christmas carols! It's the only part that I just don't like.. so, I have to say I'd rather watch Christmas movies.. Besides National Lampoons Christmas vacation.. you can't go past Elf.