Get to know Queen Mandy!
Work Health and Safety Officer at National Pharmacies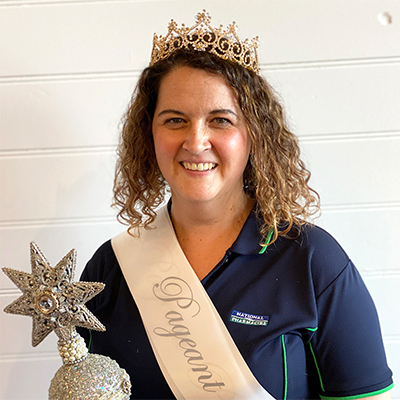 1.  What's your favourite thing about your job? 
The best bit about my job is that I get to work with the most amazing people every day in both our stores and support office.
2. What is your favourite National Pharmacies store and what do you love about it?
All the teams in our store are fantastic and work so hard to support our members and customers so I would have to say they are all my favourite.
3. What's the best kept secret at National Pharmacies?
Supporting our local communities is very important to National Pharmacies and many of our stores support and sponsor local community sporting clubs and events.  
4. What is your favourite thing about the National Pharmacies Christmas Pageant and what are you most excited about? 

The National Pharmacies Christmas Pageant is such an iconic event that reminds so many of us of our childhood and the magic of Christmas. This year I am very excited to experience the Pageant during twilight at the Adelaide Oval as it is something special and unique for this year. 

5. Do you have a favourite float in the National Pharmacies Christmas Pageant? 
My favourite float would have to be the Snow Globe as it was the first float I was on and I got to share the experience with my husband James as he was on the float with me.

6. Why did you apply to be part of the royal family and what is the best part about joining the National Pharmacies Christmas Pageant royal family? 
I applied because the National Pharmacies Christmas Pageant brings back so many magical memories of my childhood and holds a very special place in my heart. Representing National Pharmacies as the Queen of this year's Christmas Pageant is truly a dream come true and I am so excited to help create the magic for the children and families in SA. 
7. What's your favourite Christmas tradition? 

My favourite Christmas tradition is baking and decorating gingerbread cookies with my son Parker although most times we end up eating too many of the lolly decorations.  
8. Would you rather go for a ride on Father Christmas' sleigh or get a tour of his workshop? 
This was a tricky one, I had to consult with my son, and we have agreed that riding in Father Christmas' sleigh would be an opportunity we could not refuse. Traveling around the world in one night seeing the twinkling lights of the big cities and getting to meet the reindeer would be just amazing. 
9. Would you rather spend a day watching Christmas movies or listening to Christmas music? (If movies, that is your favourite Christmas movie? If music, what is your favourite Christmas song?) 
Watching Christmas movies is one of the traditions we have in our family and our absolute favourite is The Polar Express. My family and I love this movie as it shows the power of believing and the magic of Christmas.