Big ideas for miniature float glory: The winner of the 2021 National Pharmacies Christmas Pageant Mini Float competition has been revealed
Entries for the 2021 National Pharmacies Christmas Pageant Design a Mini Float Competition have now been judged, with first, second and third place awarded to creative South Australian children and schools.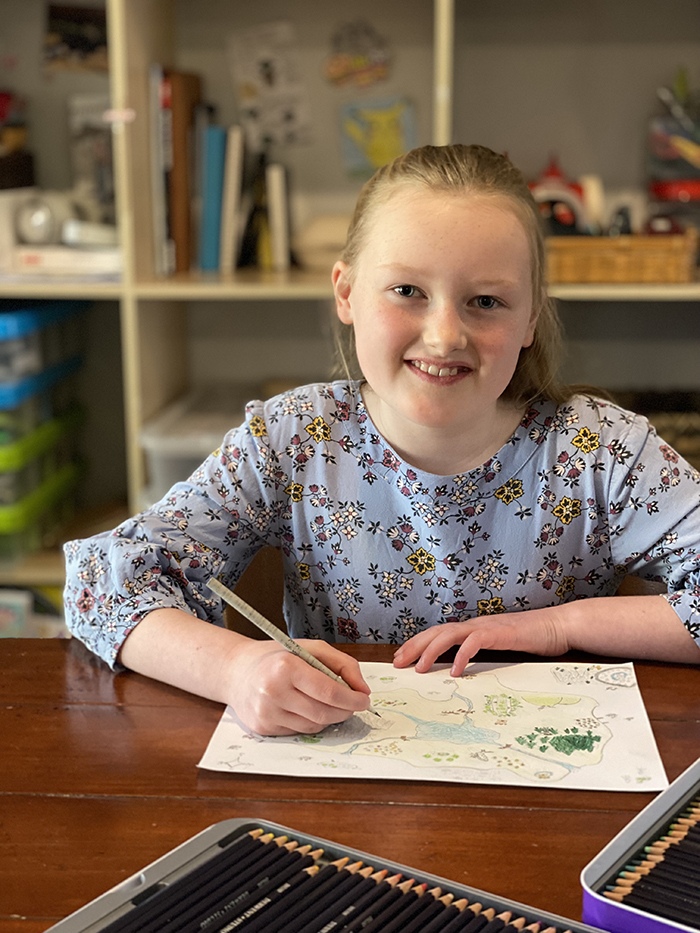 Selected from over 277 submissions, the 11-year-old winner will have her design brought to life for this year's Christmas festivities, continuing a family tradition through to the next generation.
Home-schooled student Adeline Graetz, from Salisbury Downs, will follow the family footsteps of her mother who participated in the pageant as a young girl.
Creation of Adeline's design will commence immediately at Stardust Castle, the Pageant workshop, with the final design to be unveiled later in the year.
"I really enjoy celebrating Christmas by playing carols on my violin, so I used that to inspire my mini float design," said Adeline.
"My favourite Christmas Pageant float is Nipper and Nimble because I like horses, and I love that my mum was once on the Nimble float in the Pageant when she was my age."
For the first time in the National Pharmacies Christmas Pageants history, a second first place winner has been awarded. Richmond Primary Schools year one class will have their impressive and heart-warming design submitted as a possible full-scale float for the 2022 pageant, with more details to be revealed at a later date.
National Pharmacies Christmas Pageant Director, Brian Gilbertson, applauded both winners on their touching and symbolic entries and noted the creativity and effort of all submissions from children across the state. 
"It was heart-warming for us to see all of the entries for this year's competition, celebrating their unique interpretation of festive spirit, despite the challenges faced by many in the last year," said Mr Gilbertson. 
"What was evident through all entries was how much the Pageant means to entrants, their families and their friends, and that absolutely shone through with the creativity and magic that came to life in their drawings and ideas." 
The criteria for this year's Mini Float competition included originality and artistic content including presentation of how the design would be showcased, music to accompany the float, and character and costume design to detail the surroundings of the float.
"The 2021 winner's float design is a sentimental expression of the judging criteria and uniquely showcases a beautiful take on Christmas spirit," said Vito Borrello, head judge and CEO of National Pharmacies.
"We can't wait to reveal it to Adeline and her mother in the coming months ahead of the pageant," he added.
Second place was awarded to the North Pole Farming float, designed by Alex and Hamish from Jamestown. The float incorporated traditional farming attire for costumes and candy canes, candy bale and a combine made from cardboard boxes, offering a rustic rural feel to the festivities.
Nicolas Tripodi from Heathfield Highschool claimed third place with Christmas Wishes, comprising of winter clothing, old fashioned aesthetics, and a charitable activation providing gifts to children in need.
"All entries were outstanding - we applaud and thank every person who dedicated time, energy and effort in to participating. Concepts this year presented a true challenge to the judging panel, with so many impressive and creative ideas," said Mr Borrello.
First prize will be awarded $500 donated by National Pharmacies, with second receiving $250 and third prizes will be awarded $100.
Brian Gilbertson also acknowledged the exciting quality of entries across the board.
"These wonderful Mini Float ideas reassure us that Christmas spirit still thrives amongst South Australian children, who have provided much inspiration to the Pageant team for the huge amount of work taking place behind the scenes in preparation for this year's event," said Mr Gilbertson.
The 2021 National Pharmacies Christmas Pageant planning is well under way, and more information about Pageant Day will be announced soon.
HONOUR ROLL – NATIONAL PHARMACIES CHRISTMAS PAGEANT DESIGN A MINI FLOAT
2021: Adeline Graetz (Salisbury Downs), Mini Float to be revealed in September
2020: Maverine Ancheta (Paradise), NP Magical Mail
2018: Lolita Casey (Port Noarlunga), The Kindness Tree
2017: Sophia Ivanica (Para Vista), Snowman
2015: Maddy Nyp (Hahndorf), Get Well Soon
2013: Casey Van Heuven (Golden Grove), Ringo the North Pole Hotline
2011: Sharni Tansell (Woodside), Naughty or Nice Meter
2009: Owen Primary School, Rodney the Red Bi Plane
2007: St John's Grammar School (Belair), Cupcake Christmas